Drum roll….we are thrilled to announce the award-winners of the first Reimagination At Work Awards!
When we decided to run a conference and awards, we wanted to make the awards as inclusive as we could. So there was no entry fee, and no lengthy application form to fill in. We also decided not to have categories with people set against each other. These awards are about celebrating the wonderful people who have won awards. We want to share the stories of our fabulous winners and celebrate those who are working to make the world more inclusive. We had a range of entries, and our judges voted on who they thought should win.
These awards would not be possible without our lovely sponsors who are also our judges for the awards. The sponsors and judges are:
Sarah Grealy from Simply Business
Amber Mellowship from BRITE
Riikka Jokelainen founder of Companies In Balance
and our Co-Creators Mo Kanjilal and Allegra Chapman
We had a simple voting system to decide who to award to from all of the brilliant entries. And any entry with 3 votes or more has won an award.
And now, onto our amazing winners…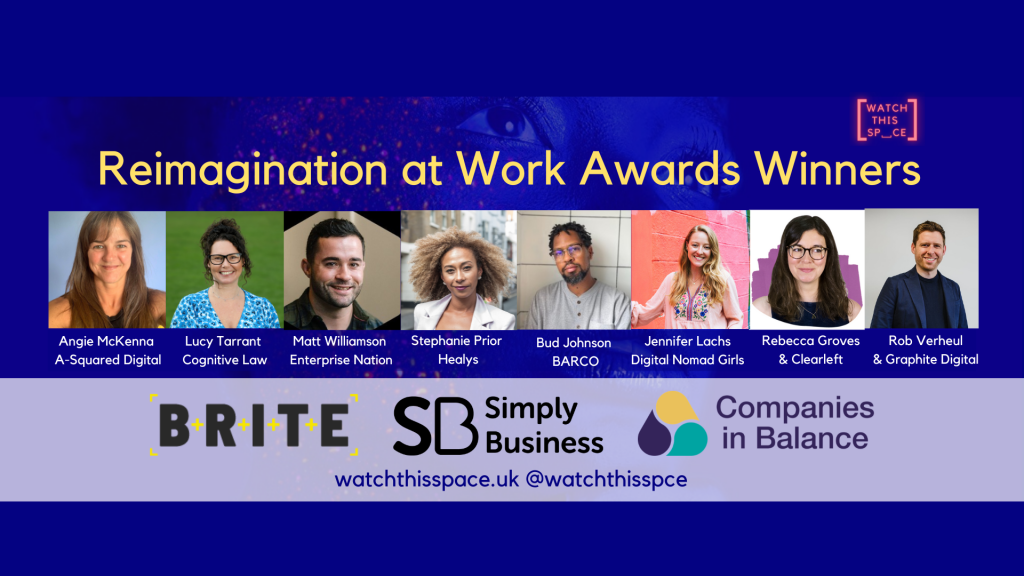 Angie McKenna from A-Squared
Lucy Tarrant from Cognitive Law
Matt Williams from Enterprise Nation
Stephanie Prior from Healys
Bud Johnson from BARCO
Jennifer Lachs from Digital Nomad Girls
Rebecca Groves and the team at Clearleft
Rob Verheul and the team at Graphite Digital
Each winner had a great story about how they are working to make the world more inclusive. They are all people taking action, and we're thrilled to celebrate them all. We will be sharing stories about our fabulous winners throughout the week.
To watch the awards celebration webinar with our sponsors and judges, here's the recording:
Thank you so much to everyone who entered or nominated someone, to our sponsors and judges. And huge congratulations to our fabulous award-winners!
From
Everyone at Watch This Sp_ce