"Changing the big picture takes time.. and the best things to do is focus on the things that we can make in our lives. If we're doing all that. That becomes the collage of real change."

Michelle Obama
When a young Michelle Robinson was appointed as a mentor to a new lawyer called Barack Obama at the law firm she worked at, neither of them could have imagined where their lives would take them together. Michelle Obama often talks about the power of mentoring to drive change, inclusion, and the importance of helping people along the way. She talks about the impact of mentoring on her daughters and on future generations. She talks about how you can change the world if you set up networks of people who mentor and those who are mentored. She believes mentoring is a tangible way to help people up and forwards in their careers.
If this is the case, why is it that we do not routinely see mentoring in workplaces to help increase diversity and build inclusive workplaces? For example, there are studies that show that people who are recruited from diverse backgrounds often leave the organisation after a short time. Imagine if those people were mentored by someone who could help them feel the inclusion, belonging and hope to progress their career. Imagine the power of having a mentor to introduce you to the connections who can help you achieve your ambitions.
The power of mentoring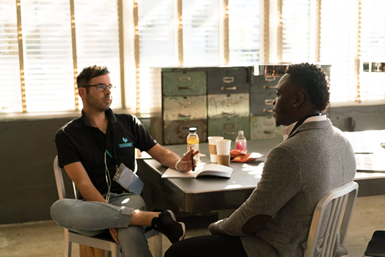 "The delicate balance of mentoring someone is not creating them in your own image, but giving them the opportunity to create themselves."

Steven Spielberg
When you mentor someone, you help them to reach their potential. Mentoring is not about telling them everything you have done and asking them to do the same. It's about helping them answer questions within themselves, to help them grow and flourish. This is why mentoring is the key to creating diverse and inclusive working environments. A mentoring partnership between a senior leader and someone just beginning their career journey from a different background can have incredible impact.
That powerful partnership can create opportunities and open discussions, and the mentor can help their mentee by introducing them to people in their network. The mentor can help open doors for their mentee and support them with those interactions. Together they can talk about the aspirations for the mentee and how the mentor can help them on that path. The benefits work both ways, enabling both parties to learn from different perspectives and creating a culture of inclusion.
What skills do you need to mentor?
Great communication skills, especially listening skills make for good mentoring. Being someone who is helpful, considerate and compassionate will help you. Through being a mentor, you learn effective ways of communicating with someone different to yourself. Mentors do not have to be senior leaders. Successful mentoring partnerships can exist in most stages of people's careers. It's a very effective way to build up leadership skills for new managers, and a really effective way to learn how to see things from a different perspective and learn good listening skills. The skills you gain as a mentor can be invaluable in building a career as an inclusive leader.
For workplaces setting up a mentoring scheme, it's important to provide training and support to mentors to help them to build up their skills as a mentor, as well as a framework to guide them. There are lots of techniques mentors can use to help their mentees with the things they want to work on in their careers. Once you start a mentoring scheme, you start to build your network of mentors and mentees; people from different backgrounds and perspectives who start to build that inclusive culture and community.
If you are at a workplace that does not have a mentoring program, consider how you could set one up in your organisation. If you need support with this, we can help. It doesn't have to take a lot of time and expense to match people in mentoring partnerships. They need to know who they can go to for advice with their mentoring, and help with outcomes they can achieve with their mentee.
For workplaces who do not offer mentoring, there are ways for people to mentor to gain experience. For example, I mentor for a charity called The Girl's Network, who offer mentoring to girls aged 14-19. The girls are matched with a mentor for one year, and mentors are provided with training and support along the way, as well as being connected to a network of mentors. This is a great way for women who have not mentored before to build up their skills as a mentor.
Consider looking for local or industry related mentoring networks. There are many of these types of networks to help people find a professional mentor. For example, Women In Tech SEO have a mentoring scheme, Sussex University, along with many other universities, have mentoring schemes for alumni, and Leaders Plus offer a mentoring scheme for young parents. These are just a few examples of professional mentoring schemes. Of course, if your focus is specifically on supporting diverse employees, you can also join Watch This Sp_ce's mentoring network.
How mentoring helps with inclusion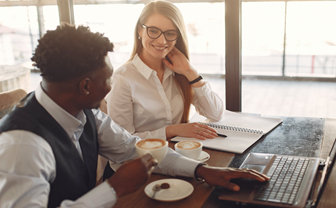 For a mentee, having someone to talk to about your career aspirations and goals can be an experience that changes their career opportunities. I have worked at several companies where mentoring schemes were successfully introduced. The power of having someone to talk to outside of your usual circle of people means you can be open and explore ideas, and your mentor will often connect you to people you would not otherwise have access to from their network to help you with your career goals. They help you to build your own network.
Many workplaces say they struggle to recruit and retain a diverse range of employees. They talk about things like the pipeline of people applying for roles, or the fact that they don't always stay very long. Well have they considered what the experience is like for people who join those places? And how mentoring can help? I spent many years working for companies where I was the only woman in the room, and the only person of colour. Those early days in my career were daunting, and having a mentor would have been such a support.
Diverse employees often feel that, once they've joined a company, doors are closed to them for further progression. Intentionally or not, leaders look to people who remind them of themselves for promotions and new opportunities, and those that are "different" get overlooked. They can often find it hard to speak up about new ideas or put themselves forward for chances that come up because they don't feel welcome. Having a mentor to support them in their progression and help them to embed within the organisation can mean that those doors begin to open and the individual suddenly sees a place for themselves and long-term career opportunities that make them want to stay.
A mentoring scheme is a way to match new employees with experienced mentors to help them to feel included and supported as they progress in a new role and beyond. That support of a mentor can be a fantastic way to help a new employee in those first months in a new role, so that they feel supported… and stay in their role.
As someone who has been a mentee as well as a mentor, it is a wonderful experience from both sides. As a mentee I did things like applying for roles I would not have considered before having a mentor. And as a mentor, watching the girls I have mentored through The Girl's Network as they go through things like exam results, their lockdown experience and their hopes for their careers, gives me a sense of how far they can all go with support along the way. There's no magic answer to everything if you mentor someone. What you do is help them with ideas, suggestions, connections and support along the way. You build new relationships with people who are different to you.
"Mentoring is not an extracurricular activity, it's vital for cultivating an enriching, inclusive community."

Diana Olin
If you want help to set up a mentoring scheme, training to be a mentor or help to find a mentoring network, talk to us about how we can help.
---