From salary negotiations, to feedback, to personal identity and organisational development, let's make the important discussions more positive and productive.
Disagreement is good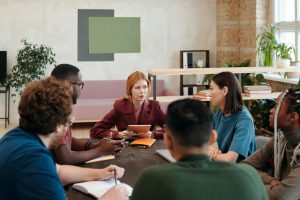 Different points of view drive better ideas and better decisions. Honesty and transparency increase staff engagement and retention. Yet most organisations shy away from difficult discussions because they're uncomfortable. Let's embrace how to disagree productively.
Join us for an interactive, in-person workshop where we'll explore, in a supportive and collaborative group environment:
How to handle challenging conversations
Building a culture of psychological safety
Breaking down barriers to open dialogue
When?
Thursday 25th May
9.30am – 12.30pm
Where?
Projects The Lanes
Nile House, Nile Street, Brighton BN1 1HW
How much?
£149 per person
Bring a friend, and you both get your tickets for £95 each – email megan@watchthisspace.uk to take advantage of this deal.