How do you know where to start with diversity and inclusion?
If you know your organisation needs to do something but you don't know what, our inclusion audit is for you.
You can't move forward without knowing where you're starting from. In order to make your organisation more diverse and inclusive, you need to understand where it currently is. You need a full, clear picture of how your team and everyone connected to you works, communicates, engages and performs.
So it's lucky that we created our Inclusion Audit to do just that!
The inclusion framework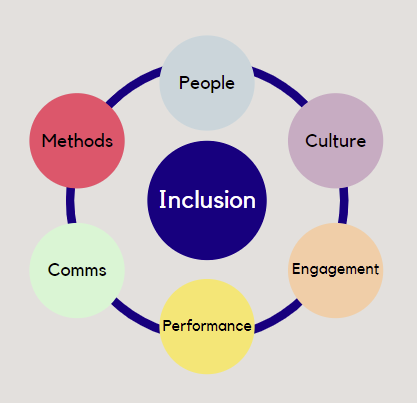 Our unique inclusion framework enables us to look at diversity, inclusion and belonging holistically, taking into account all aspects of an organisation and how it works with and for leaders, staff, clients, customers, contributors, other stakeholders, and the wider community.
We use data analysis, surveys, interviews, performance evaluation and reviews of processes, policies and working methods to determine:
your gaps and opportunities for growth
your internal and external reputation
goals and objectives for inclusion and belonging
short, medium, long-term and transformational actions required
Your inclusion roadmap
The analysis from your audit will enable us to create a roadmap with step-by-step actions and timeframes to take you from where you are to where you want to be, and beyond.
We include key milestones and a measurement framework to allow you to track your progress and celebrate your success.
This will be a live project plan, shared with you as a working document for you to use along your inclusion journey.
We also provide guidance on communicating and implementing change, so that everyone feels involved and motivated to drive change.
Choose your starting point
The overview audit
This is an introductory version of the inclusion audit, designed to give you a quick initial sense of your current situation and what areas you need to focus on. You will receive a summary of key findings and a report on recommended next steps.
Cost: £1000
The Explorer Audit
This is the full audit, heading into the heart of your organisation to chart the territory and draw your map. You will receive a complete breakdown of audit findings and an Inclusion Roadmap.
Cost: From £5,000