80% of UK businesses are struggling to recruit right now.
If you're one of them, it's time to consider how inclusive your practices are.
Not only do inclusive recruitment practices enable you to attract a wider range of candidates, but they make you more attractive to all potential employees.
Consider this:
58% of jobseekers look for diversity and inclusion in potential employers
39% of jobseekers won't apply for a position if they believe the organisation isn't inclusive
62% of workers are actively looking for an employer that shares their values
Diversity and inclusion reduces staff turnover risk by 50%
Not to mention that more diverse and inclusive teams are more innovative, more productive, more successful and more profitable!
Understanding your recruitment journey

To maximise the results of your recruitment campaigns, you need to consider each stage of your recruitment journey.
Inclusive Recruitment Programme
We have brought together our in-depth training, bespoke coaching and expert resources to create a programme tailored to your organisation's recruitment needs.
Complete the Inclusive Recruitment programme to apply for Inclusive Recruiter certification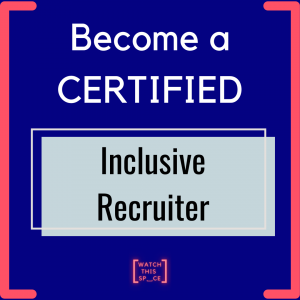 Download the Inclusive Recruitment Checklist to identify 10 key areas you need to cover in your recruitment process.